Dr. Drew "Gravely Concerned" Medical Misinformation Bill AB 2098 will Harm Patients & Silence Medical Doctors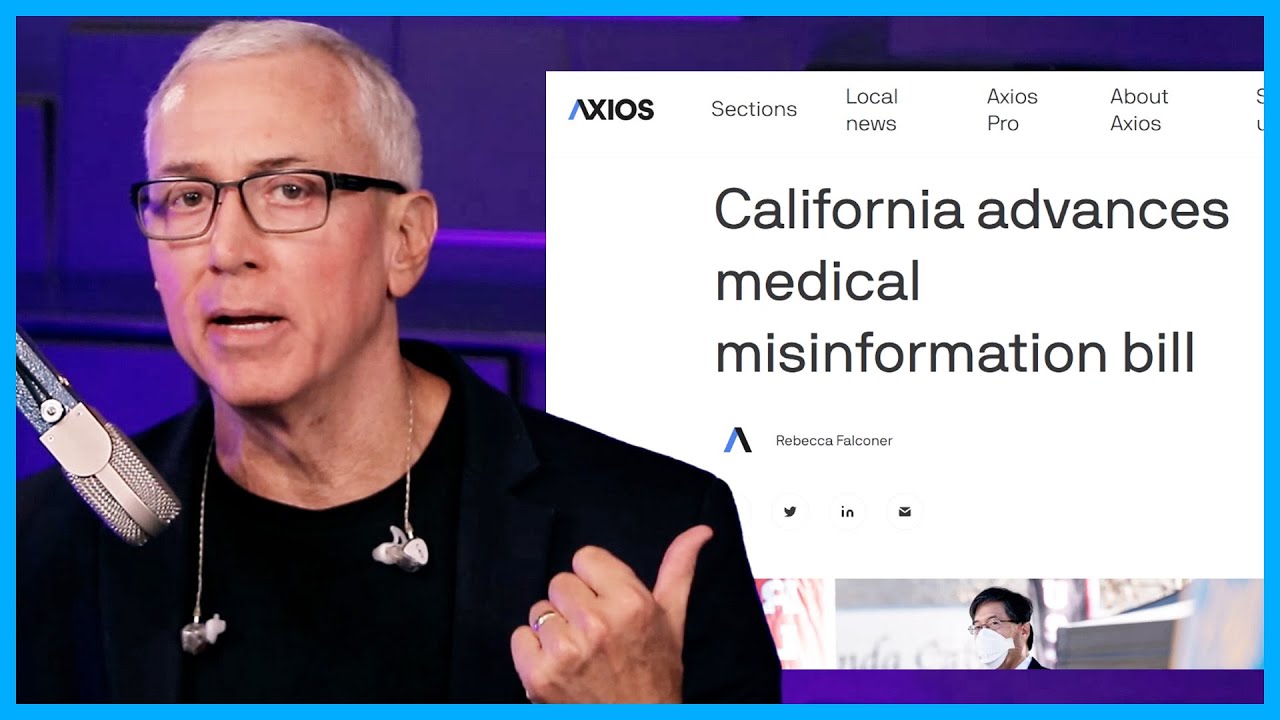 Dr. Drew has concerns about California's proposed AB 2098, which recently passed the state Senate despite resistance from physicians who fear government overreach will interfere with their care of patients and muzzle their First Amendment rights. Simply discussing the risk vs. reward of treatments could "qualify as misinformation, even though it's factually accurate," says Dr. Drew.
"It will be absolutely chilling on the practice of medicine. It will become almost impossible to… come up with the best possible recommendation for that particular patient, for that particular circumstance. So I'm gravely, gravely concerned," Dr. Drew continues. "That's how the opioid crisis happened. It's still happening to this day."
FROM THESE EPISODES: https://drdrew.com/912022 and https://drdrew.com/962022
---
TRANSCRIPT
Note: This text is from an automated transcription, and may contain minor errors. 
DR. DREW: I just want to explain how draconian this law is, this [AB] 2098 in the state of California. Literally would be the case that if you were — if I was evaluating a patient, let's say, you come in, you're my patient and you come in and you say the CDC is recommending that I get this new Omicron vaccine, this bivariant vaccine.
I'm concerned because what I'm reading suggests that it was only studied on mice. And if I say anything other than standard, what would it be? Standard should be empty slogans as specified by the academic and the bureaucratic structure, which would be: you're over 60 years old. It's recommended that you get this booster. If I (follow the protocol), if I said, for instance, you're right, it was studied on mice, I'd probably recommended my patients over 65, certainly over 75.
I think it's worth the risk. There is antecedent very, very similar vaccines in influenza and this is sort of how we do with influenza every year. We don't test it certainly in humans every year. So there's a protocol out there. But if you were 30 years old, I would say, you know, there was just a study. It came out in circulation last this week that suggested that in men under 40, the risk of myocarditis is five times higher from the Moderna vaccine than from COVID itself. Right there!
That would qualify as misinformation, even though it's factually accurate. It's merely me discussing what's available in the medical literature with my patient. Let's say that patient was angry for some reason… that patient could make an anonymous complaint to the state, and he or she could go home and go, "You know what? Mom and dad and brother and sister.
… you guys, I'd like you to make the complaint too. Here's what my complaint is. Why don't you modify a little bit? I heard something be said in the public the other day I didn't like either, so add that to it. Each one of those complaints would be dealt with as though a police report had been filed for a criminal action.
It will require a full response with citations and will take months and months and may require hiring an attorney for each case. That is what they are doing. It is absolutely out of control and I'm sure they're going to say, "Oh, no, no, I would never use it like that." Of course they don't intended. That's how these laws have unintended effect.
It will be absolutely chilling on the practice of medicine. It will become almost impossible to practice medicine the way we are trained to, which is to use our objective reasoning to share ideas with our patients and to come up with the best possible recommendation for that particular patient, for that particular circumstance. So I'm gravely, gravely concerned about that.
So back to AB 2098.
This is a bill by a pediatrician whom I had pushed forward some other vaccine bills that I was sort of in favor of. And now I feel like he has gotten over his skis and gone too far. He is essentially saying that misinformation and they're saying specifically about COVID. I don't know if you're aware, but there is a lot of misinformation in medicine out there all over the place.
There are people that are not qualified to make some of the sweeping declarations that they do. And there are people that are qualified and still say things that are outrageous. So we have a full spectrum of very misinformed — a lot of misinformation flying around when it comes to health care. And we've always taken the position in this country that that was just sort of part of being in a free society and, you know, caveat emptor.
I have seen some — literally I've seen physicians who were actively psychotic practicing medicine. And of course, there are people that have no business making some of the saying some of the things that they say, because they literally don't have the training or the knowledge to say it. And yet we allow that to happen. But to allow physicians to question orthodoxy publicly, particularly when orthodoxy is based on a bureaucratic sort of infrastructure, that is a problem.
That to me is a really bad problem. When you look at the history of medicine, it has always been the scientists and the physicians that sort of brought up question marks, not not have gone into outer space with hubristic, you know, assailing of the of the current orthodoxy. But people have said, "I don't get this. I don't see it."
"Let's talk about this some more. Perhaps this isn't necessarily the right way to go." And it literally would be impossible to do that, certainly publicly. And I just know how the Board of Medical Quality Assurance works in this state. And anybody can say anything anonymously or on the record, and it is dealt with as though it is….
… a police report filed by a police investigator in a crime event. And literally, you have to respond in writing. You have to provide documentation. You have to put references for your your position to back. And so let's take I think I mentioned this once before. Let's say your 20 year old son comes into my office and we start talking about is vaccine a good or a bad idea?
So we have this Omicron vaccine now. It's only been tested on mice. And generally what I would tell somebody like that is, you know, we really know what we're doing with people over 65, certainly over age 75, where the risk reward is clearly worth it. Even though this vaccine was just developed on mice. This is very similar paradigm to what we do with the flu vaccine, and it works very nicely.
So I'm going to guess this is worth the risk for a 75 year old who really can have bad complications from Omicron. We've known forever that people younger really don't have a lot of risk with this thing. Not to say that they never get into trouble, but to say the risk is extremely low. And so the question then is, could the vaccine risk be higher than the risk of the COVID itself?
Well, we have a circulation article out now that showed a five time greater risk of myocarditis from the vaccine as compared with the the COVID itself. People have assailed that study. I think it's a pretty good study. All these studies are worthy of being deconstructed and examined very carefully. But I'm going to say, I'm going to hang my hat on this one a little bit and say hmm, I'm going to worry about that, even though the incidence is very, very low.
Very, very low. If that 21, 20 year old said, you know what, I want to go to, I don't know, some country that requires a vaccine and I'm not worried about it. And by the way, I had the I had the Pfizer, and it really didn't bother me. I'd go, okay, all right, I worry about Moderna because that was one that had all the myocarditis.
I wonder if there's a world in which we can give lower doses to some of these younger people, but no one has done those studies yet. But Pfizer is lower dose. So okay, why don't we do the Pfizer Omicron, if that's what you want to do? But if you're concerned about it, it's a rational position to say, I'd rather get the Omicron probably and by the way, probably already been exposed to it.
And there are not a lot of good ways of testing for that to see whether you have the neutralizing antibodies for it yet. Now that conversation, if that patient, that 20 year old got angry for some reason and went out to the Board of Medical Quality Assurance and just made a complaint because I discussed misinformation with him and he could easily go to his friends and go, "Would you mind making a complaint also here's what he did."
Literally, you can make as many complaints as you want, as many people as they want. And each of those will be dealt with as a criminal action, not criminal in the sense it will go to a criminal case, but criminal in the way the due process plays out. It requires a similar kind of defense, and it may require hiring attorneys for each one.
I'm gonna to tell you something: doctors froze in the early part of COVID. That's why we got so much crappy care. People weren't trying to follow up and find ways to manage this illness. They just froze and were scared because they were in a employment structure that said, just send them home. They did the same thing with the opioid epidemic.
I was there as it happened. There were a couple of cases of of of both criminal and civil action against physicians for undertreatment of pain. Physicians froze, stopped treating pain, stopped prescribing opiates, sent everybody with pain to the pain specialist and the pain specialists took the position that pain is whatever the patient says it is and pain controls whatever the patient says it is.
And now it was on. Now it was on. That's how the opioid crisis happened. It's still happening to this day.
---
「 MEDICAL NOTE 」
The CDC states that COVID-19 vaccines are safe, effective, and reduce your risk of severe illness. You should always consult your personal physician before making any decisions about your health.
「 ABOUT the SHOW 」
Ask Dr. Drew is produced by Kaleb Nation (https://kalebnation.com) and Susan Pinsky (https://twitter.com/firstladyoflove). This show is for entertainment and/or informational purposes only, and is not a substitute for medical advice, diagnosis, or treatment.
「 ABOUT DR. DREW 」
For over 30 years, Dr. Drew has answered questions and offered guidance to millions through popular shows like Celebrity Rehab (VH1), Dr. Drew On Call (HLN), Teen Mom OG (MTV), and the iconic radio show Loveline. Now, Dr. Drew is opening his phone lines to the world by streaming LIVE from his home studio. Watch all of Dr. Drew's latest shows at https://drdrew.tv
Original Upload Date: 2022-09-09 14:47:32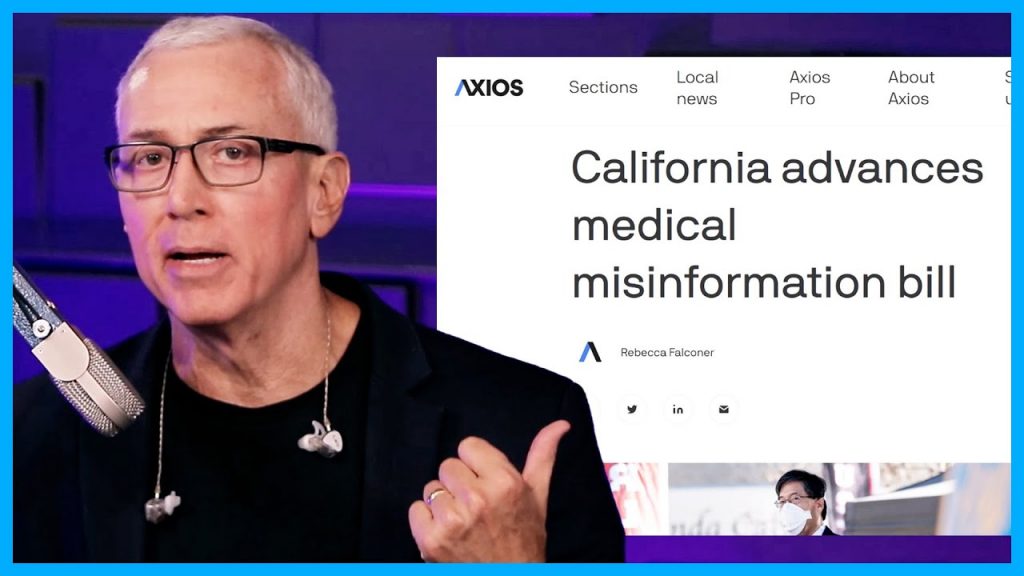 Dr. Drew "Gravely Concerned" Medical Misinformation Bill AB 2098 will Harm Patients & Silence Medical Doctors