Mikhaila Peterson & Elex Michaelson Ask Dr. Drew LIVE – Call 984-2DR-DREW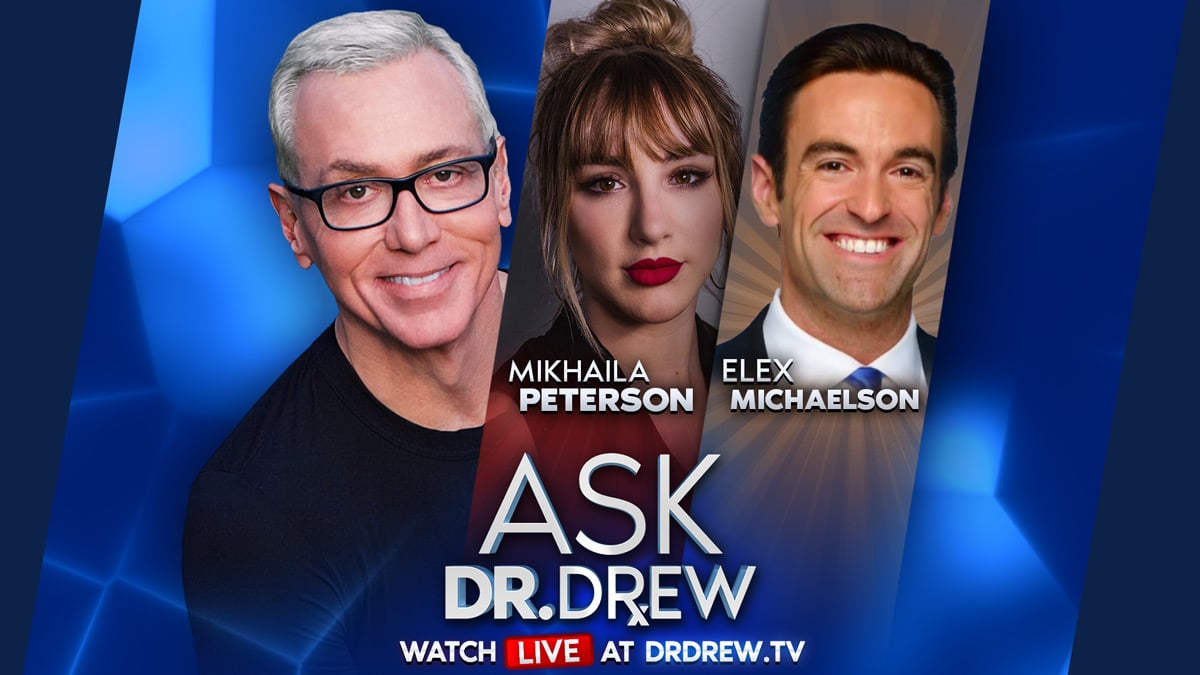 Mikhaila Peterson is a Canadian podcaster, CEO, and lifestyle and diet blogger. Her podcast, 'The Mikhaila Peterson Podcast' provides a platform where she hosts a wide range of experts to discuss health, cultural phenomena, politics, and other topics that are often shied away from. She also has a series called Opposing Views on contentious subjects. Her story of overcoming severe autoimmune and mood disorders with diet and lifestyle alone and subsequently becoming medication and symptom-free have inspired hundreds of thousands of people across the globe. Mikhaila's main goal is to help people become resilient, and realize how much control they have over their own life, to encourage others to take responsibility for their physical and mental health, and to help show people that they have the power to better their lives, regardless of the cards they've been dealt.
Mikhaila's socials are:
Podcast (YouTube): https://www.youtube.com/mikhailapetersonvideos
Instagram: https://www.instagram.com/mikhailapeterson/
Twitter: https://twitter.com/MikhailaAleksis
Elex Michaelson co-anchors FOX 11 News weeknights at 5 p.m., 6 p.m. and 10 p.m. with Christine Devine. He co-hosts the "FOX 11 Special Report" with Dr. Drew Pinsky weeknights at 7 p.m. He also hosts and produces the political talk show The Issue Is, which airs on stations throughout the state of California.
Elex is an Agoura Hills native and his first job in broadcasting was as a FOX 11 intern. He's a self-described "political junkie" who has conducted one-on-one interviews with nearly every key political figure including Donald Trump, Hillary Clinton, Bernie Sanders, Joe Biden, Al Gore, Gavin Newsom, and more. He's reported live from the Republican and Democratic National Conventions, multiple Presidential Inaugurations and debates. Michaelson is the winner of 6 Emmy Awards and 13 nominations. From 2010-2017, he was a reporter and fill-in anchor at KABC-TV in Los Angeles. Prior to that, he served as a weekend morning anchor and weeknight reporter at XETV in San Diego. He graduated first in his class from the Annenberg School of Journalism at the University of Southern California. He earned Summa Cum Laude and Phi Beta Kappa honors while picking up dual degrees in broadcast journalism and political science.
Follow Elex Michaelson at https://twitter.com/Elex_Michaelson
• Sign up at https://drdrew.tv to get an alert when Dr. Drew is taking calls.
Ask Dr. Drew is produced by Kaleb Nation and Susan Pinsky.
This show is for entertainment and/or informational purposes only, and is not a substitute for medical advice, diagnosis, or treatment.