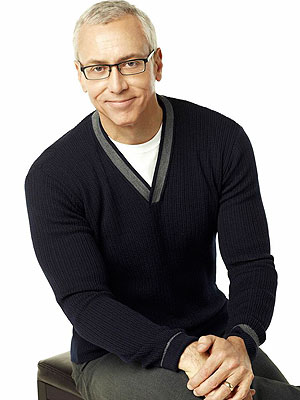 Dr. Drew Pinsky Reveals Prostate Cancer Treatment
Returning from a Caribbean vacation two years ago, Dr. Drew Pinsky felt as if he had been hit with a nasty tropical disease, with chills so violent he went to the hospital.
The illness passed, but at the urging of his wife he went for a follow-up examination that turned up something else: an elevated PSA, a sign of potential trouble in his prostate. He was treated for prostatitis, an inflammation of the prostate, but not getting better, he reluctantly had a biopsy.
"Lo and behold, I have cancer," Pinsky, 55, tells PEOPLE exclusively. "I was doing Lifechangers" – a daytime show on The CW – "and my HLN show was going. My wife and I had this great relationship, very active sexually. This could screw everything up. It was a terrible feeling."
Last July, Pinsky quietly underwent surgery to remove the prostate. He told only a small circle of friends and colleagues, returned to work in 10 days, and has made a complete recovery – and he means complete. As someone who gives out advice on sex, Pinsky speaks frankly about own bedroom prognosis.
"I'm cancer-free," the host of HLN's Dr. Drew on Call (9 p.m. ET) says. "The erectile function is normal, sex drive is normal, bladder works normally. And I don't have to worry about prostate cancer."
The experience placed the doctor in the uncharacteristic role of patient. Pinsky credits his wife Susan Sailer Pinsky with providing sound counsel, accompanied by firm prodding along the way, for him to not ignore symptoms and to continue to seek care.
"We're all bad as males. I convinced myself I could do my own primary care," he said. "These are very complicated issues. The message I want to give out is that this is still an art. So much of the good outcome for me was the result of people following their intuition, including my wife."
After the initial biopsy, Pinsky opted for what is known as active surveillance, bypassing immediate surgery and its potential side effects, including incontinence and impotence, for careful and structured monitoring, with additional PSA tests and a pair of biopsies.
"It's a safe way to follow patients," says Pinsky's physician, Dr. Stuart Holden of the Urology Oncologist at Cedar Senai Medical Center and Medical Director of the Prostate Cancer Foundation.
Pinsky ended up waiting about year from the time he first saw Holden until the surgery, the TV host meeting the age and other criteria for the approach (which the foundation calls "Proactive Surveillance").
"It does defer treatment," Holden said. "Dr. Drew is in his mid-50s. He's physically active, he has a very attractive wife, he wants to maintain his functionality. This bought him a period of time."
Not that the waiting was always easy after his initial diagnosis.
"The floor goes out from under you. It's like: Oh, crap, I don't want to deal with it," Pinsky says. "It took me about a year to get used to the diagnosis. But by the time I went to surgery after my third biopsy, I said, 'It's time. Let's get it going.' "
Ironically, the thing that sent him to the doctor initially – the illness after his vacation – "was probably a red herring," he said. "I just happened to be extra sick and it just happened to send me to the hospital and my wife happened to have the right instincts."
For more on Dr. Drew's cancer diagnosis and how he dealt with it, check out this clip from The Dr. Oz Show.