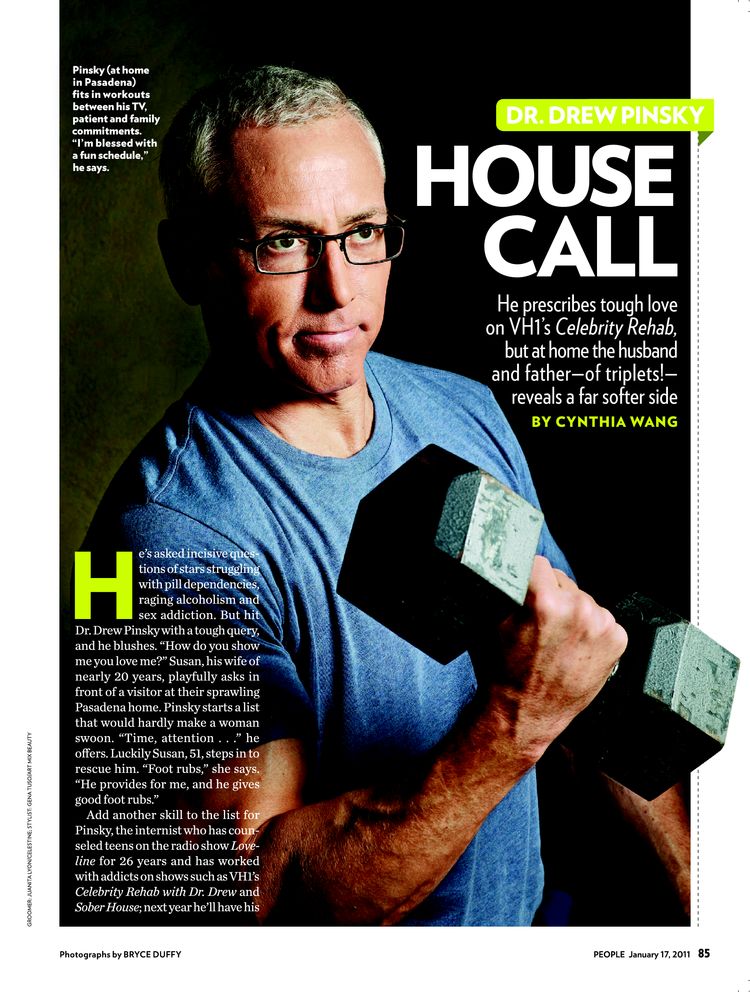 Dr. Drew Pinsky: House Call – People Magazine
He's asked incisive questions of stars struggling with pill dependencies, raging alcoholism and sex addiction. But hit Dr. Drew Pinsky with a tough query, and he blushes. "How do you show me you love me?" Susan, his wife of nearly 20 years, playfully asks in front of a visitor at their sprawling Pasadena home. Pinsky starts a list that would hardly make a woman swoon. "Time, attention…" he offers. Luckily Susan, 51, steps in to rescue him. "Foot rubs," she says. "He provides for me, and he gives good foot rubs."
Add another skill to the list for Pinsky, the internist who has counseled teens on the radio show Loveline for 26 years and has worked with addicts on shows such as VH1's Celebrity Rehab with Dr. Drew and Sober House; next year he'll have his own prime-time show on HLN. Last month he kicked off the fourth season of Celebrity Rehab; in the past cameras have caught stars confessing suicidal thoughts (Jeff Conaway), sweating from detox (Tom Sizemore) and clinging to their medication (Tawny Kitaen).
"These people are desperate to change and profoundly ashamed about what they are doing," Pinsky explains. "Even if they come in to make money, they end up valuing their treatment." Case in point: Actor Jeremy London was at first an agitated participant. But when the season wrapped in August, "he said, 'I came here thinking this was just another job…and I got my life back.' That was pretty moving," says Pinsky. Moments like that make up for the stars he failed to reach: "I really worked hard with Dennis Rodman," Pinsky says, "and he just blew me off."
Some critics have been equally dismissive, taking particular issue with Pinsky's propensity for sounding off on stars whom he hasn't treated, like Lindsay Lohan, Tiger Woods and Tom Cruise. Pinsky is unfazed, feeling more than qualified to share what he knows. "I practice medicine, and I'm board certified in addiction medicine," he says simply.
He wasn't always so dedicated to a life of service. Following in his late father Morton's footsteps, Pinsky began premed studies. He went to Amherst College in Massachusetts but barely survived his first semester. "I was depressed and had panic attacks," he says. He tried arts classes for a year, then had a change of heart. "Before, medicine had always felt like it wasn't my decision. Then I thought, 'What if I want to do it?' A deep sense of excitement came over me."
In 1984, while in medical school at the University of Southern California, he began consulting on KROQ-FM's late-night call-in show Loveline. Answering questions about pregnancy and sexually transmitted diseases, popular topics among listeners, struck a chord with Pinsky. "I thought, 'Someone just needs to talk straight about this.'" The show went national in '95, and a year later MTV launched a hit TV version of Loveline with Adam Carolla as Pinsky's cohost.
While his medical and media careers thrived, Pinsky and Susan wed in 1991; soon afterward she became pregnant-with triplets. "We were told by our obstetrician, 'You cannot have triplets. Marriages don't survive it; the kids' emotional and physical lives aren't good,'" says Pinsky, now 52. They forged ahead and, while Pinsky says that 1992-when Douglas, Jordan and Paulina were all born healthy-was also "the year my hair turned gray," the challenges have been worth it. "He prioritizes his life around them," Susan says. "Even if he's had no sleep, he'll go to their baseball game. He's always there."
But if the going gets rough, Pinsky won't hesitate to exercise tough love with his brood. "I have a policy: If you do something illegal, you will face the law," he says. "I will not bail you out." There is, however, one chink in Dad's armor. "I am a severe codependent," he admits. "I feel bad if I don't get gas for my kids' cars at night." A softie at heart? Just ask the recipient of those foot rubs. "Drew's a guy's guy," says his wife. "But there's no one better at offering comfort."
FULL ARTICLE HERE: http://www.people.com/people/archive/article/0,,20455971,00.html