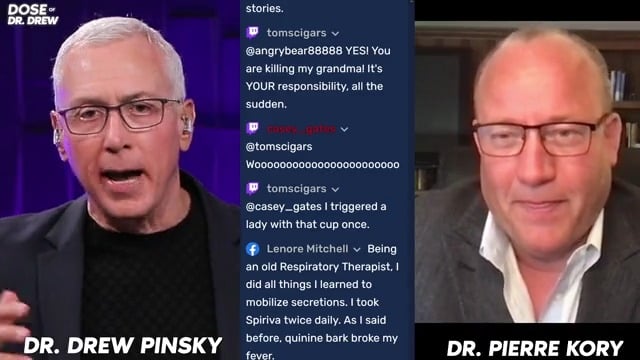 Dr. Pierre Kory — President & Chief Medical Officer of Front Line Covid-19 Critical Care Alliance — Joins Dr. Drew Live
Dr. Pierre Kory — President & Chief Medical Officer of Front Line Covid-19 Critical Care Alliance — Joins Dr. Drew Live
Dr. Pierre Kory is a lung and ICU specialist who currently serves as the President and Chief Medical Officer of the Front Line COVID-19 Critical Care Alliance. Having co-authored ten peer-reviewed manuscripts on COVID-19, he is considered one of the world's clinical experts in both the disease the role of ivermectin in treatment. Prior to Covid, Dr. Kory was considered a pioneer and international expert in the fields of both therapeutic hypothermia and critical care ultrasound. He served as the senior editor of a best-selling and award-winning ultrasound textbook which is now in its 2nd edition and seventh language translation. Dr. Kory has long been considered a master educator as he has won major Departmental Teaching Awards at multiple institutions in his career.
Follow Dr. Pierre Kory at twitter.com/PierreKory
Find out more about Front Line Covid-19 Critical Care Alliance at flccc.net or covid19criticalcare.com.
The FLCCC group's efforts started by systematically gathering the clinical observations and treatment results from a large group of national and international colleagues during the initial surges in China, Italy and the US. They next devoted themselves to a continuous review of all the emerging published medical literature on every aspect of COVID-19 while accumulating intense clinical experience in the care of COVID-19 patients with the goal of developing effective treatment protocols. Their first protocol for the hospitalized patient called MATH+, achieved near uniform success when initiated early in the disease course of patients arriving to the hospital with COVID-19. More recently, the group's efforts led to their early identification of the potency and high efficacy of the medicine ivermectin in both the prevention and early treatment of COVID-19. Dr. Kory then became the lead author of the ivermectin review manuscript which first demonstrated the efficacy of ivermectin in COVID-19, followed by his now-viral testimony in a Senate Homeland Security Committee meeting on December 8, 2020. In that testimony, he led a call to action of the US national health care agencies to investigate and adopt ivermectin as a solution to the current crisis of the pandemic by its ability to stop transmission, hospitalizations, and death in COVID-19. His testimony and his organizations I-MASK+ treatment protocol for the prophylaxis and early treatment of COVID-19 has now gone viral in many countries around the world, with one website video in the US now having been viewed 8 million times. Ivermectin is now leading to markedly reduced rates of transmission, hospitalization, and death in many centers and regions of the world. The FLCCC Alliance's I-Mask+ protocol and manuscript is currently leading to the consideration and adoption of ivermectin into the national COVID-19 treatment protocol of many countries worldwide.
Dr. Ram Yogendra, @YoDoctorYo started the organization Covidlonghaulers.com and is a board-certified anesthesiologist with a background in public health and exercise physiology. He received his undergraduate degree in biology (B.A.) at Rollins College in Winter Park, Florida and his Master of Public Health (M.P.H.) in Tropical and Communicable Diseases from the University of South Florida, Tampa, Florida. He went onto receive his medical degree (M.D.) from St. George's University and complete his residency in anesthesiology at the State University of New York Downstate, Brooklyn, New York. Prior to medical school, Dr. Yogendra worked as an Infection Control Practitioner at Florida Hospital (now Advent Health), Orlando, Florida and then in the HIV/AIDS Division of the Pinellas County Department of Health, St. Petersburg, Florida where he was part of the Jail Linkage Project, a collaboration between the DOH and GlaxoSmithKline, to conduct risk assessments of inmates to determine those at high risk of infection and in need of HIV/STD/TB/Hepatitis testing, treatment, and follow-up services.
---
Sign up and ask questions on upcoming shows via Clubhouse at clubhouse.com/@DrDrew! – Watch at drdrew.tv – Raise your hand in Clubhouse to ask Dr. Drew anything: questions about COVID-19, vaccines, addiction, relationships, health, current events… or anything you want to discuss!
Produced by Susan Sailer Pinsky. This show is for entertainment and/or informational purposes only, and is not a substitute for medical advice, diagnosis, or treatment.
We are live with ⁦@PierreKory⁩! https://t.co/mgwBeMGDeV

— Dr. Drew (@drdrew) July 1, 2021