Listener Calls [Episode 330]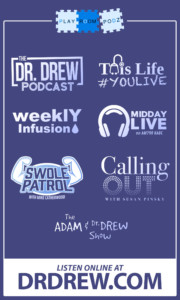 Dr. Drew opens up the phone lines this week and takes your listener phone calls. Touching on a wide range of topics from his experience with Tyler Henry on Hollywood Medium to drug and alcohol abuse treatment. There's even some talk on the #MeToo movement and Farah Abraham of Teen Mom fame.
Thanks for listening. Beside to check out all the podcasts Dr. Drew has to offer here on drdrew.com.