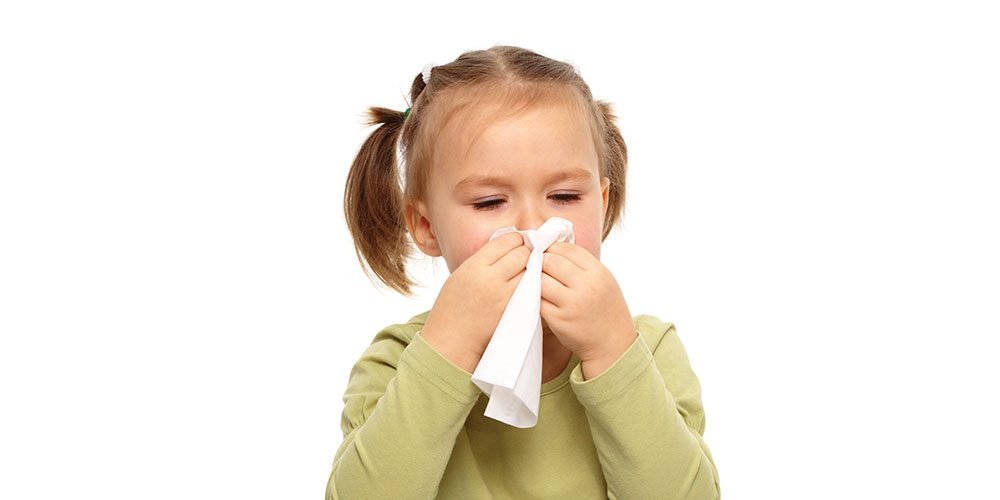 Why Do So Many Kids Have Allergies These Days?
It's not your imagination.  Childhood allergies are on the rise.  Milk, eggs, peanuts, tree nuts, soy, wheat, fish and shellfish are responsible for the majority of food-related allergies.  According to the United States Centers for Disease Control, the incidence of allergies in children rose eighteen percent from 1997 to 2007.  Whether the higher numbers are the result of more accurate diagnoses or caused by other factors is not known, but scientists have developed several theories that take many possibilities into consideration:
Hygiene Hypothesis – This theory asserts that today's children are growing up in environments that are too clean.  It suggests that decreased exposure to bacteria or other germs has caused the modern immune system to react differently than it has in recent history.  Simply put, there are fewer bugs for the infection-fighting system to attack, so the allergen-fighting portion overcompensates, resulting in more allergic reactions.
Changes in gut health – Humans have complex systems of microorganisms that live in the digestive tract.  This intestinal flora consists of over four hundred types of bacteria, which aid in the breakdown and digestion of food.  Researchers are studying the possibility that sugar, animal fat and high calorie foods, which are staples of the western diet, are decreasing the number of "good bacteria,"resulting in more allergies. A recent study introduced Clostridia (a common class of gut bacteria) to a group of mice devoid of native gut flora, and found that it increased their immune response.  This research suggests that food allergies might be successfully treated with probiotic therapies in the future.  
Late exposure – Some experts surmise that children should be exposed to potential allergens at an earlier age with the goal of encouraging a tolerance to them.  The theory suggests that making a child wait until two or three years of age to try foods like peanuts and milk might actually make a child more vulnerable to developing an allergy.
Vaginal delivery or C-section – Studies show that birth by C-section has a higher association with many health conditions including autoimmune disorders, asthma and allergies.  It has been hypothesized that exposure to the mother's vaginal and intestinal flora during vaginal birth may more positively influence a person's immune system in the long run.  
These are just a few of the theories that researchers will continue to investigate in an effort to determine why allergies are on the rise.  While there are no "cures" for food allergies, many of them may be outgrown.  If you suspect that your child may have an allergy, talk to your doctor.  You may be referred to an allergist who can perform specific tests to diagnose allergies and make recommendations to treat them. If your child is diagnosed with an allergy, make sure to be prepared in the event of a reaction.  This may include having an antihistamine or epi-pen on hand or stored at his/her school
Download this week's episode of Weekly Infusion to hear actress/mom Kym Whitley's firsthand experience with childhood allergies.  Kym's son, Joshua, has several food allergies, which lead her to create a product that helps prevent children from accidental exposure.   
---
Sources: 
Neu, MD, Joseph and Rushing, MD, Jona, "Cesarean versus Vaginal Delivery: Long term infant outcomes and the Hygiene Hypothesis," June, 2011, Clinics in Perinatology,  https://www.ncbi.nlm.nih.gov/pmc/articles/PMC3110651/
Levy, Sandra "Can Good Gut Bacteria Protect Against Food Allergies?" August 25, 2015, Healthline News, http://www.healthline.com/health-news/can-gut-bacteria-protect-against-allergies-082514#1
"Why Has There Been an Increase in Food Allergies?" June 29, 2015, Best Food Facts, https://www.bestfoodfacts.org/whyincreaseinfoodallergies/
Orenstein, Beth, W. "Childhood Allergies on the Rise and More Severe," April 15, 2015, Everyday Health, http://www.everydayhealth.com/hs/anaphylaxis-severe-allergy-guide/childhood-allergies-worse/
Landau, Elizabeth, "Why are Food Allergies on The Rise?" August 3, 2010, CNN.com, http://www.cnn.com/2010/HEALTH/08/03/food.allergies.er.gut/
"Facts and Statistics," Foodallergy.org, https://www.foodallergy.org/facts-and-stats