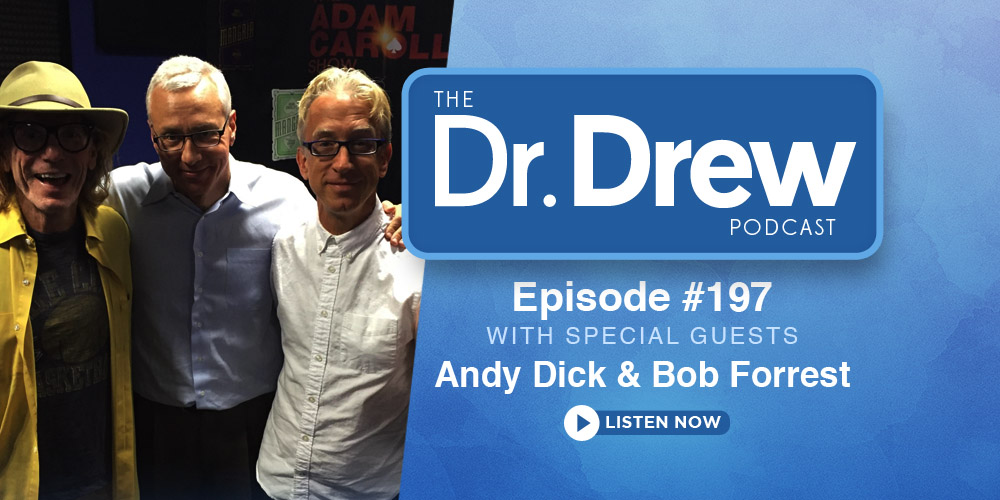 #197: Andy Dick and Bob Forrest

Podcast: Play in new window | Download
Dr. Drew is joined this week by Bob Forrest and Andy Dick for a frank conversation about where they all currently are in their recovery and personal lives. They also discuss Bob's new album Survival Songs and play a track called 'Elvis, We Are Waiting For You'. The gang then turn to the phones and talk to a recovering alcoholic trying to manage Xanax addiction, a woman worrying about a recently sober person getting married and pregnant, and a someone with a sibling who recently had to have open heart surgery as a result of heroin use.
---
References
Follow the show on Twitter @DrDrewPodcast
And for the music on today's podcast, go to https://drdrew.com/music
---
Producers: Chris Laxamana and Gary Smith
All conversation and information exchanged during participation in the Dr. Drew Podcast is intended for educational and entertainment purposes only. Do not confuse this with treatment or medical advice or direction. Nothing on these podcasts supplement or supersede the relationship and direction of your medical caretakers. Although Dr. Drew is a licensed physician with specialty board certifications by the American Board of Internal Medicine and the American Board of Addiction Medicine, he is not functioning as a physician in this environment. The same applies to any professionals who may appear on the podcast or drdrew.com.