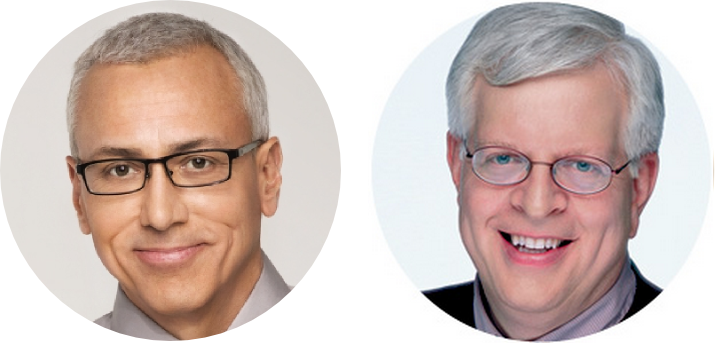 LA: An Evening with Dr. Drew and Dennis Prager
On Saturday, May 31st, two of Los Angeles' most beloved radio voices – Dennis Prager and Dr. Drew Pinsky – will share their wit, wisdom and insights with an intimate crowd of fans and friends at The Canyon Grille in Burbank, CA. This exclusive evening will offer you the opportunity to meet, greet and sit at the feet of the entertaining duo as they delve into topics ranging from current events to the antics of their mutual friend Adam Carolla.
Tickets to this VIP event are $100 per person, which includes hors d'oeuvres and unfettered access to our featured speakers.
8:30PM Dennis and Dr. Drew take the stage
9:30PM Book signing and photo ops
Dr. Drew Pinsky is a practicing physician, Board Certified in Internal Medicine, Board Certified in Addiction Medicine and a member of the staff at Huntington Memorial Hospital. Pinsky is also Assistant Clinical Professor of Psychiatry at the Keck USC School of Medicine. He's the host of HLN's Dr. Drew On Call, the nationally syndicated radio show Loveline, and the #1 health show on iTunes The Dr. Drew Podcast.
Dennis Prager is a nationally syndicated radio show host and columnist, found each day from 9 AM to Noon on the Salem Radio Network. He is the author of many books, the latest of which is Still The Best Hope: Why the World Needs Americans Values to Triumph.
Join us in Burbank on Saturday night, the 31st of May for a memorable evening. Tickets are very limited and will go quickly!
Note: ALL SALES FINAL! There will be no refund issued in the event you are unable to use your ticket.
Purchase now: https://hashtagpros.webconnex.com/DrDrew
Location: Canyon Grille – DeBell Golf Club Address: 1500 East Walnut Avenue, Burbank, CA 91501