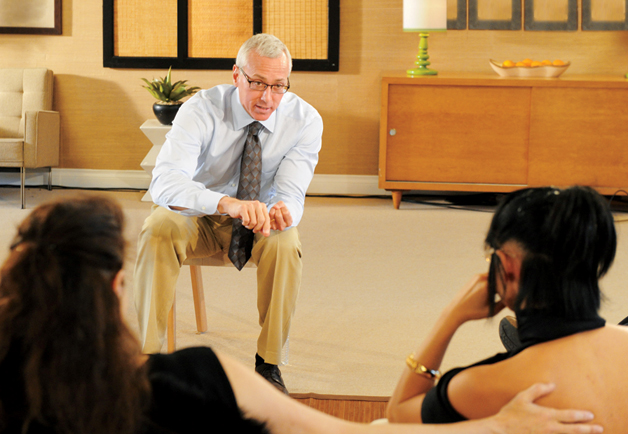 The Straight Dope On Celebrity Rehab – GQ Magazine
In Dr. Drew's world of televised recovery, he often has to balance the needs of the camera versus the needs of his patients. Before filming the newest season of "Celebrity Rehab," Drew came up with a simple strategy: no one from the production team was allowed to talk to him. Not under any circumstances. "I did that not to be an asshole," Drew explains, "but to make it so clear, finally—these [producers] are not medical people—and so for me to get through to them on how significant this is, how dangerous this is, how serious this all is, I finally had to say that. And everyone cooperated and we had a really good season. I harbor no ill—this is important to say—I harbor no ill feelings towards any producer, any executive but they're not medical. They're job is to make television, and by the way, I don't want to get in the way of that. I want people to watch this. But this is a really serious thing we're into here."
Before season one started, Drew and VH1 producers figured the only sure fire way to get a celebrity into treatment was to treat them like a celebrity, i.e. pay them a lot of money and guarantee them an audience. "They wouldn't do it otherwise. They would go down and crash and burn and maybe die, but this is part of the way we've gotten them motivated to do this. Now our challenge then becomes [for the celebrity] to drop their specialness and just stay with it and be a person with a disease, which is the essence of recovery." Nevertheless, Drew admits having a camera in treatment often creates some murky ethical problems that he doesn't always know how to solve.
"Sometimes it's like, Oh crap, who knows?" says Drew, "no one's done this before."
The first Oh Crap moment came two days before filming the first season of "Celebrity Rehab." In order to combat the celebrities' feelings of "specialness" Drew wanted to have eight celebrities and eight "regular people" on the show, but during the initial interview process it became clear to Drew that most addicts didn't want or couldn't even comprehend their treatment being filmed.
"I had the same experience with every single one of them," Drew says, "as I started broaching the idea of consent, getting into the idea of, how is this is all going to feel when it's all on television, every single person looked at me with a confused look. And I thought, Holy shit, an average person can't consent to this. They don't understand what this would mean to them—being on TV and having their life exposed like this."
Drew intervened on behalf of the normies and over the seasons past he has had to do the same thing for the celebrities to maintain the integrity of their treatment. One of the events that pushed Drew to create the No Talking Policy occurred during "Sex Rehab."
"We had just been through this extremely intensive group where [former Skid Row drummer] Phil Varone talked about seeing his mother lowered into the ground and it was just so emotional, we all like, felt it, and he was like, 'No human should ever have to stand there and watch a coffin, it was so big.'"
The group was moved and Drew felt as though they had really broken new therapeutic ground. Then he met producers that afternoon (who had not seen the footage) who had come up with an inventive scene for the camera to show the group's progress: Everyone had to turn in their sex paraphernalia, lubes, lotions, dildos, videos, etc., and the show would have a burial. All of the naughty items would be put into a giant coffin and lowered into the ground in front of the participants.
"I was like, 'Did you not just hear what we went through?'" Drew said to the producers. "There was absolutely no way."
Drew dug in and the burial was canceled. When dealing issues of life and death, no one wants to have a dildo funeral.
NOTE: On June 10, Phil Varone announced he would team up with adult entertainment house Vivid Video to release Phil Varone's Secret Sex Stash, a two-disc set in which he discusses his 3,000 conquests, and, well, performs with five women. That's called relapsing in public.