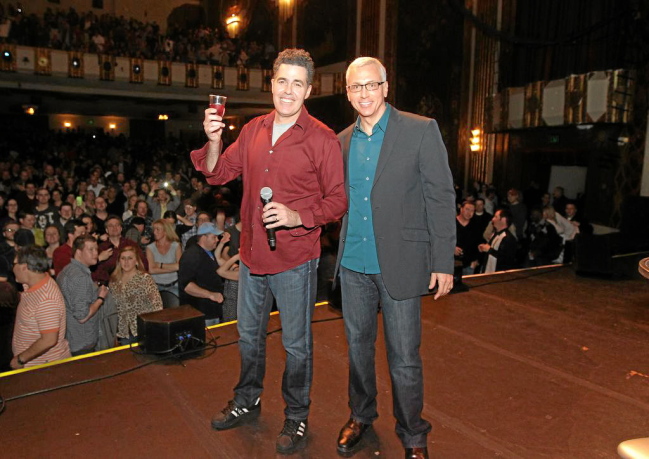 Dr. Drew and Adam Carolla back together for Loveline Reunion Tour
The call-in radio show was co-hosted by the comedian and doctor from 1995 to 2005. Sundays through Thursdays, the two dished out advice on relationships, health and anything else that came up.
Flash forward eight years: They have both matured a bit, have more experiences under their belts and have new insights so they've decided to get back together and "take it to the streets" as Carolla describes it.
"Basically, we were at it for a long, long time and we had a fan base that kind of grew up with us a little bit and they want to get together, you know?" says Carolla.
"It's really an excuse to get together and work, which it's been awhile. And it's kind of fun to take a walk down memory lane. It's not all nostalgia, a lot of it is us – we've matured, we have different thoughts, I have kids now. "
So far they have taken the show to a handful of cities including Salt Lake City and Las Vegas, and have a show in Napa on May 18. But Carolla describes their tour schedule as "catch as catch can. "
The show in Redondo Beach will include storytelling, a discussion on various philosophies they have, and an open Q&A session.
One of Carolla's philosophies is on relationships. He says people are going to disappoint themselves if they ask for too much or expect that person to make them happy.
"I think the mistake that a lot of people make is they look to their partner, whoever it is, for happiness," Carolla says. "And that person is not going to make you happy. That person is going to help theoretically make you happier, but they're not going to make you happy if you're not going to be happy. "
Carolla says looking to your partner for happiness puts too much pressure on that person.
Instead, he says, people have to be responsible for their own happiness and the way they feel about themselves.
"I mean, yeah, no one is supposed to tell their partner they're fat and stupid every 10 minutes, that's going to affect the way that person feels about themselves. But don't expect that person to make you feel a certain way about yourself," Carolla explains.
"That's going to be pretty impossible. If you make yourself feel a certain way about yourself, you be in charge of your own happiness and well-being and take some of the pressure off of that person, the relationship will last much longer. "
The radio show hosts didn't just discuss relationships on their program.
In fact, Carolla says the most common theme of the show was parents messing up their kids.
He explains that nowadays people are discussing bullying and education problems, but he believes it's the parents that are the real problem makers, not the kids.
Realizing this helped him learn what not to do once he became a parent himself, he says.
But his most memorable moment doing the show was the story of a man who went to a morgue and stole the head off one of the bodies to put it in a tank with his pet snake.
"I always say that seems like the one that sticks out the most to me," Carolla says.
These are the kind of stories Carolla and Dr. Drew will be sharing during their Reunion Tour.
"Basically, the show had a pretty big following and now the show as it was doesn't exist anymore, so it's a chance to see your guys that you may have missed, who for a lot of people got them through high school, up on stage," Carolla says.
"It's just kind of a nostalgic walk through memory lane. "
MORE HERE: http://www.dailybulletin.com/ci_22958337/dr-drew-and-adam-carolla-back-together-loveline